News & Events
News & Events
Lead Image:

Dine Out on February 25th to Support VNSW's Free Community Programs!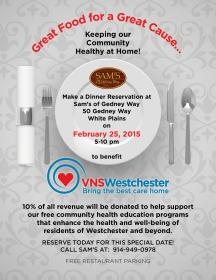 DINE OUT AND DO GOOD!
Make a dinner reservation at Sam's of Gedney Way, 50 Gedney Way, White Plains for:
Wednesday, February 25th (between 5:00 - 10:00 pm)
The restaurant will donate 10% of all revenue from the evening to support VNS Westchester's free community education programs that enhance the health and well-being of residents of Westchester and beyond. This is an opportunity to enjoy great food and support a great cause at the same time!
You can dine in, take dinner out, or enjoy drinks and snacks at the bar -- it all counts toward the restaurant's donation. And, there is free restaurant parking.
FOR RESERVATIONS, CALL SAM'S AT 914-949-0978
CHECK OUT THE MENU IN ADVANCE AND GET DIRECTIONS! GO TO:  www.samsofgedneyway.com