News & Events
News & Events
Lead Image:

Improving Quality of Life: "Geri-Chairs" Donated to VNSW Patients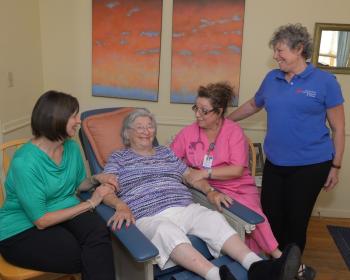 Individuals and families coping with debilitating illnesses, decreased mobility and loss of function need much support in the home setting. The stress on the patient and the family can be overwhelming as patients are often confined to bed or a chair.  Now, in addition to providing their clinical expertise and guidance to help patients better manage their conditions, our nurses have another "gift" to offer— Invacare "geri-chairs" – generously donated by the Rose Art Foundation.
The Invacare geri-chair is designed to support patients with limited mobility.  It has multiple positions, can be easily moved from room to room and pushed outside in nice weather.  The out-of-pocket cost of the chair would be prohibitively high for most patients. From March 2014 to date, 17 VNSW patients have benefited from the Rose Art's donations of Invacare chairs.  (Pictured above, l to r: Janice Cianflone and her mother, patient Lucy Cianflone, with VNSW nurses, Zoila O'Keefe and Janice Malett).
The Rose Art Foundation is a family project that honors the memory of husband and father Shalom Yoran who became immobile toward the end of his life. His family purchased an Invacare chair which vastly improved his quality of life and allowed him to retain his dignity and social interactions. Thus, the foundation's mission is to "improve the quality of life of immobile and handicapped seniors by providing the Invacare Recliner."  To date, the foundation has donated 460 geri-recliners nationwide, predominantly to not-for-profit nursing homes.  Fortunately, when I asked Varda Yoran, wife of Shalom and President of the Foundation, if she would consider donating the chairs to our patients in their homes, her immediate response was "why not"?
A grateful family of a VNSW patient commented on the geri-chair donation:
"…During one of the nurses' visits, I mentioned that I didn't have a comfortable chair for my Mom to sit. The nurse submitted a request to your organization for a recliner chair. The chair is great and providing much comfort for my mother. We thank your organization for a great looking and comfortable chair. We really appreciate it."
VNSW is immensely grateful to the Rose Art Foundation for helping us to improve the quality of life of our patients.  Much appreciation also to VNSW's staff nurses who went above and beyond to get chairs for their patients. To read the amazing story of Shalom Yoran and for more about the Rose Art Foundation, visit: WWW.LIVINGWITHDIGNITY.ORG