News & Events
News & Events
Lead Image:

VNS Westchester Awarded Grant from Aging in America, Inc. to Stem the Tide of Sepsis among Home Care Patients
$25,000 Grant Matched by VNSW Foundation, Inc.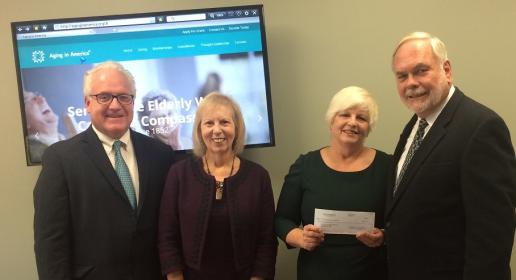 Visiting Nurse Services in Westchester, Inc. (VNSW), has been awarded a $25,000 grant from Aging in America, Inc. to support the integration of an innovative Sepsis Screening, Education and Intervention Tool into its clinical practice. The funding will enable the not-for-profit agency's home care work force to screen more than 10,000 patients in their homes annually as part of its best practices in patient care. The VNSW Foundation, Inc. provided a matching grant of $25,000 to underwrite staff training in identifying and managing sepsis in the home and in utilizing the screening tool for optimal patient outcomes.
Sepsis, the body's overwhelming and life-threatening response to infection, has been declared a national medical emergency by the Centers for Disease Control and Prevention (CDC).  Commonly misunderstood as a "hospital problem," the National Sepsis Alliance reports that 80% of sepsis cases originate in the home and community, often afflicting people 65 or older with chronic health conditions.
According to VNSW President & CEO, Tim Leddy, "With the majority of our patients at high risk for developing sepsis, this is a pivotal moment for our agency to step in with early intervention tools to stem the tide of this serious condition at the point of care at home.  Through regular screenings for symptom identification, we can initiate early treatment interventions that will vastly reduce instances of the condition, prevent unnecessary hospital re-admissions and save lives. We are extremely grateful to Aging in America, Inc., for helping us take this great leap forward in sepsis prevention for our patients, particularly among our growing elderly population."
"Aging in America, Inc. has a keen interest in supporting not-for-profit organizations that are utilizing technology to help older persons meet the challenges of aging at home," said William T. Smith, Ph.D., President/CEO. "We are very pleased to support VNSW's groundbreaking effort to help prevent sepsis among its elderly patients through this new electronic screening and intervention tool for use in the home setting."
Developed by the Home Care Association of NYS (HCA), the National Sepsis Alliance, IPRO and the Rory Staunton Foundation for Sepsis Prevention, the Sepsis Screening, Education and Intervention Tool is the first-of-its-kind in New York State and in the nation, currently being rolled out as a statewide model for scaling up as a national home care model for sepsis interventions.  By incorporating the tool into VNSW's Electronic Medical Records (EMR) System, its staff will be able to access sepsis identification and treatment protocols on their computer tablets during patient assessments at the start of care and on follow-up visits.
As an early adopter of the screening tool, VNSW will also play an integral role in sharing sepsis outcomes data with local and statewide medical, health and home care organizations. The aim, says Leddy, is to model best practices and encourage broad replication of the tool to improve care coordination and population health in the Lower Hudson Valley region.  
Dr. Amy Ansehl, President of the VNSW Foundation, Inc., stressed the importance of the staff education and training components of the initiative. "Treating patients with sepsis is a race against time, making early symptom recognition and rapid response critical for positive outcomes. The matching grant from the VNSW Foundation, Inc. will ensure that VNSW's professional and paraprofessional staff become proficient in quickly determining the patient's risk for developing sepsis and for putting into swift action the appropriate treatment intervention, ranging from patient education to immediate emergency care."
PHOTO: Dr. William T. Smith (far right) presents the grant award to (left to right): VNSW President & CEO, Tim Leddy; Director of Development & Communications, Joyce Infante; and Director of Business Development and Community Relations, Mary Gadomski.