News & Events
News & Events
Lead Image:

VNS Westchester Hosts HCA's "Stop Sepsis at Home NY" Hudson Valley Regional Training Session
Expert Training and Collaboration Session Prepares Home Care Agencies and their Partners to Adopt Innovative Sepsis Screening Tool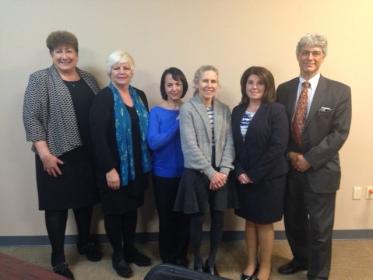 Visiting Nurse Services in Westchester (VNSW) was privileged to serve as the regional host of "Stop Sepsis at Home NY," an HCA-sponsored training session held on January 10th in VNSW's Putnam branch office in Brewster, NY, that attracted a broad cross-section of healthcare providers in the region. Supported by a NYS Health Foundation grant, the Home Care Association of NYS (HCA), along with partner organizations including IPRO, the National Sepsis Alliance and the Rory Staunton Foundation for Sepsis Prevention, are presenting a series of eight regional sessions across NYS to train home care and other healthcare providers on an innovative sepsis screening and intervention tool they developed with sepsis leaders, clinical experts, home care clinicians and other contributors.
The home care sepsis screening and intervention tool, the first-of-its-kind in NYS and in the nation, was developed to help home care providers and their partners identify the risk of sepsis, prevent its onset and  provide early interventions for patients at home or in community settings where more than 80% of sepsis cases originate. Sepsis, the body's overwhelming and often life-threatening response to an infection, has been declared a national medical emergency, most often affecting the vulnerable elderly, infants, people with disabilities and those with chronic medical diseases or weakened immune systems. It is the #1 cause of death in U.S. hospitals and the #1 driver of readmission to a hospital (within 30 days), according to the Sepsis Alliance.
With more than 80% of its patients age 65 or over, most with one or more chronic medical conditions, VNSW's patient population is highly susceptible to developing sepsis. The agency was recently awarded a $25,000 grant from Aging in America, Inc., and a 100% matching grant from the VNSW Foundation, Inc. to integrate the sepsis screening tool into its electronic medical record system and to train its field staff to utilize the tool during home care visits. By adopting the tool, the agency will be able to screen more than 10,000 patients annually, with the goal of vastly reducing instances of the condition, preventing unnecessary hospital re-admissions or emergency department visits and saving lives.
Stimulating Session Spurs Action among Participants  
Along with several members of VNSW's staff, the "Stop Sepsis at Home NY" training session on January 10th attracted a packed room of representatives from other home health care agencies, hospitals, skilled nursing facilities and other health care providers in the Hudson Valley region, eager to join the statewide effort to adopt the screening tool as part of their clinical patient assessments.
The session began with a moving video about Rory Staunton, whose tragic loss to sepsis at age 12 spirited the establishment of the Rory Staunton Foundation for Sepsis Prevention, whose landmark efforts spurred a NY statewide and national movement to stem the tide of sepsis. The program continued with an orientation to sepsis, a discussion of sepsis as a national medical emergency, the imperative of early identification and intervention (particularly within the context of the home and community setting) and identification of high risks and system impact, including the relationship to Federal/State health reform priorities and models of care.
An in-depth presentation of the sepsis screening and intervention tool was followed by case studies showing clinical applications of the tool, along with steps for integrating the tool into home care agency electronic medical record systems.  Participants engaged in an enthusiastic discussion about challenges, best practices and opportunities for cross-sector collaborations for the most effective sepsis response among healthcare providers in the region, including ways to increase awareness of sepsis and the sepsis screening tool among other healthcare partners and the general public.
The outstanding program presenters included: 
Al Cardillo, Executive Vice President, Home Care Association of New York State (HCA)
Amy Bowerman, Executive Director of SNH, Home Care Services of the Mohawk Valley Health System
Eve Bankert, Quality Improvement Specialist, IPRO
Sara Butterfield, Senior Director, IPRO
PHOTO ABOVE: (left to right):  Sara Butterfield; VNSW Director of Business Development & Community Relations, Mary Gadomski; VNSW Performance Improvement Specialist, Loretta Molinari; Eve Bankert; Amy Bowerman; and Al Cardillo.
Resources for Information on Sepsis
To learn more about sepsis, the sepsis screening tool and future "Stop Sepsis at Home NY" training sessions, visit HCA's dedicated site at:  www.stopsepsisathomeny.org
To learn more about sepsis and the activities of other partner agencies, visit:
Sepsis Alliance:  http://www.sepsisalliance.org
The Rory Staunton Foundation for Sepsis Prevention:  https://rorystauntonfoundationforsepsis.org
AQIN/IPRO:  http://www.stopsepsisnow.org
Centers for Disease Control & Prevention (CDC):  http://www.cdc.gov/sepsis/
Centers for Medicare & Medicaid Services (CMS):  http://www.medicare.gov
NYS Department of Health:  https://www.health.ny.gov
Recent News coverage on Sepsis:
1/17/18:  White Plains Daily Voice reports death of 10 year old boy from flu/sepsis