News & Events
News & Events
Lead Image:

VNS Westchester Named as Top Agency of 2019 HomeCare Elite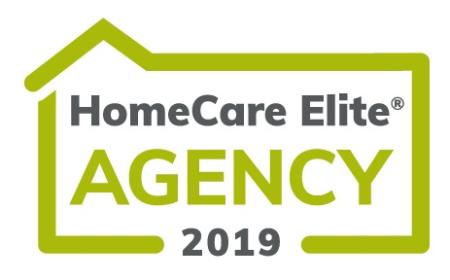 Visiting Nurse Services in Westchester (VNSW) today announced that it has been named a Top Agency of the 2019 HomeCare Elite®, a recognition of the top-performing home health agencies in the United States. For 14 years, HomeCare Elite has annually identified the top 25 percent of Medicare-certified agencies and highlighted the top 100 and top 500 agencies overall.
The ranking is developed by ABILITY® Network, a leading information technology company helping providers and payers simplify the administrative and clinical complexities of healthcare. It is sponsored by DecisionHealth, part of the H3.Group.
"We're pleased to recognize VNS Westchester for exemplifying best practice in patient care," said Christine Lang, senior director for ABILITY Network. "VNS Westchester's home health professionals have demonstrated exceptional commitment to care quality and the patient experience."
According to VNSW's President and CEO, Timothy P. Leddy, "I'm very proud of our home care team and our support staff for their dedication and hard work that has resulted in our agency's recognition as one of the HomeCare Elite.  We remain diligent in reviewing our internal processes, increasing staff education and training and working collaboratively to provide the best possible outcomes for our patients."
"Congratulations to VNS Westchester from all of the staff at DecisionHealth," said Marci Geipe, product manager for Decision Health. "Your leadership and staff have placed a premium on the patient care your agency provides as showcased by your quality outcome scores. The entire community benefits from the compassion that your staff shows toward your patients, leading to cost savings for the entire healthcare system."
HomeCare Elite agencies are determined by an analysis of performance measures in quality outcomes, best practices implementation, patient experience (HHCAHPS), quality improvement and consistency, and financial health. In order to be considered, an agency must be Medicare-certified and have data for at least three outcomes in Home Health Compare. Out of 8,818 agencies considered, 2,207 are recognized on the 2019 HomeCare Elite winners list overall.
The entire list of 2019 HomeCare Elite agencies can be downloaded by visiting the ABILITY Network website at abilitynetwork.com/homecare-elite.
About VNS Westchester
Founded in 1901, VNS Westchester is the largest and only independent, not-for-profit Medicare-certified home healthcare agency in Westchester, also serving the Bronx, Dutchess, Putnam and Rockland counties. The agency's core services include Skilled Nursing with Case Management; Rehabilitation Therapies (Physical, Speech and Occupational); Medical Social Work and Home Health Aide services to promote and support the health and sustain the independence of Westchester and adjoining communities. Core services are supplemented by a wide array of Specialty Programs including, Advanced Wound and Ostomy Care; Pain Management; Orthopedic and Joint Replacement Rehabilitation; Telehealth Remote Patient Monitoring; and Sepsis Screening and Education.  VNSW also offers free community health education programs focusing on healthy living and disease prevention. The agency has consistently received accreditation by the Community Health Accreditation Program (CHAP), a prestigious national accrediting authority.
About ABILITY Network
ABILITY Network, an Inovalon Company, is a leading cloud-based, SaaS information technology ABILITY Network, an Inovalon Company, is a leading cloud-based, SaaS information technology company helping providers and payers simplify the administrative and clinical complexities of healthcare through innovative applications and data analytics. The combination of myABILITY and the Inovalon ONE® Platform creates a vertically integrated cloud-based platform empowering the achievement of real-time value-based care from payers, manufacturers and diagnostics, all the way to the patient's point of care. For more information, visit www.abilitynetwork.com or write to resources@abilitynetwork.com. For more information about HomeCare Elite, call 888.572.4009, write to homecareelite@abilitynetwork.com or visit http://www.abilitynetwork.com/homecare-elite.
About H3.Group
In March 2017, Simplify Compliance LLC announced the merger of DecisionHealth, LLC with existing brands HCPro and HealthLeaders Media, to form the H3.Group! H3.Group, with its three pillars of thought leadership, expertise, and application, provides critical insight, analysis, tools and training to healthcare organizations nationwide empowering today's healthcare professionals with solution-focused information and intelligence to guide their organizations' efforts in achieving compliance, financial performance, leadership, and organizational excellence. The creation of the H3.Group comes as healthcare faces an unprecedented period of transition that brings uncertainty and opportunity. As policies and regulations are revisited and payment models changed, the need for clarity, actionable guidance and expert training for all provider settings and functional areas will increase dramatically.
About DecisionHealth
For over 30 years, DecisionHealth, an H3.Group brand, has served as the industry's leading source for news, analysis and instructional guidance with brand names such as Home Health Line and Part B News. Our unique blend of award-winning on-staff journalists and unmatched access to health care executives, providers and their administrative staffs results in business management advice and operationally focused editorial that has captured the attention of nearly 100,000 home health care professionals and specialty physician practices.