News & Events
News & Events
Lead Image:

VNS Westchester Pilots Auto Leasing Program for Home Care Staff
Program Seeks to Enhance Patient Care, Boost Staff Recruitment & Retention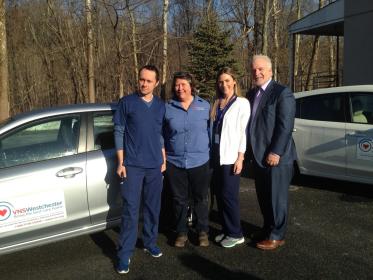 Visiting Nurse Services in Westchester (VNSW) is piloting a new automobile leasing program aimed at providing safe and reliable transportation for clinical staff delivering vital care for patients at home.
The agency's lease agreement with Enterprise Fleet Management includes a package of driver safety and support tools that will lead to more efficient and consistent service to patients, particularly those residing in the rural communities the agency serves in Putnam and Dutchess counties and in Northern Westchester.  The provision of company cars to clinicians for both business and personal use is also viewed as an aid in staff recruitment and retention at a time when the shortage of nurses, rehabilitation therapists and other home care workers prevails throughout the healthcare sector.
To launch the pilot program, VNSW provided three members of its clinical team with a safety-enhanced 2019 Subaru Impreza. The agency's name and logo is prominently displayed on the vehicles to provide brand visibility as well as reassurance for patients receiving care at home. The agency covers associated costs of purchasing and maintaining the vehicles.
The service package also comes with a mobile app that clinicians upload on their VNSW-issued cell phones to access roadside assistance, car maintenance reminders, locations of the nearest service stations and other tools designed to help them reach their patients in a timely manner. Their cell phones also include a built-in GPS system which enables staff to identify the best routes to their destinations. If vehicles fall into disrepair, clinicians have immediate access to replacement cars while the vehicles are being serviced.
According to VNSW President & CEO, Timothy P. Leddy, "Clinical staff members traditionally use their own vehicles for patient visits and are reimbursed for mileage. Like most drivers, they have to contend with traffic conditions and car maintenance issues that can affect timely delivery of care or result in interruption of service to our patients. While staff do all they can to mitigate these situations, our new car leasing program will help them to navigate with greater safety and efficiency. The program also relieves clinicians of the financial and logistical burdens of maintaining their own vehicles."
Leddy noted that one of the three clinicians in the pilot program is selling her personal vehicle. According to Occupational Therapist, Kaela Mahon, "I'm thrilled to have access to a leased car from the agency. The new vehicle and all of the support tools are going to save me time and money, while helping me to provide better service to my patients."
As far as expanding the pilot to additional clinical staff, Leddy said the agency will be monitoring the program closely to review its long-term effectiveness. "We think this program has great potential. It's a tremendous perq for our staff which will aid with retention and new staff recruitment. This leads to a more stable workforce and cost-savings for the agency that will help subsidize the cost of the car leasing program. Of course, the ultimate beneficiaries are our patients, especially those living in harder-to-reach areas. The true value of the program is in having our clinicians spend less time on the road, and more time providing high quality care to our patients at home."