News & Events
News & Events
Lead Image:

VNS Westchester Pilots Patient Outreach Call Program
Home health care agency partners with CipherHealth to reduce preventable hospital readmissions, improve health outcomes for patients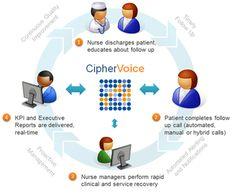 Evidence-based studies show that strategically-timed follow-up calls to patients following hospital discharge are leading to reduced instances of preventable hospital readmissions, improved patient health and better management of chronic illnesses.  To help achieve these goals for its home care patients, VNS Westchester (VNSW), a White Plains-based not-for-profit, independent Medicare-certified home health care agency, is partnering with the NYC-based health technology company, CipherHealth, to pilot a new patient outreach call program, "VNSW Care Call." The 90-day pilot program was launched in September for VNSW's patients.
VNSW Care Call utilizes CipherHealth's interactive patient engagement platform, "Voice," to generate a series of weekly phone calls to all patients enrolled in the program.  Patients are prompted to answer questions about their health status, symptoms and medication compliance using their telephone keypad.  Based on their responses, a real-time alert system notifies VNSW's clinical staff of the patient's current or potential health concerns, fostering personalized follow-up calls to patients for timely problem resolution. 
"VNSW has been an early adopter of health care technologies aimed at enhancing the health and well-being of our patients at home," said VNSW President & CEO, Tim Leddy. "The majority of our patients are 65 or over, a population that typically has one or more chronic illnesses.  Exacerbation of these conditions often leads to hospital readmissions.  The VNSW Care Call program combines CipherHealth's technology solutions with our agency's expertise in providing post-acute care and in managing the care of chronically ill patients. This high-tech, high-touch approach can be a real game-changer in helping our patients better manage their conditions at home, preventing unnecessary re-hospitalizations or emergency department visits." 
The first month of the pilot has already yielded impressive results. According to VNSW's Director of Patient Services, Suzanne Moses, over 1,000 patients have responded to the Care Calls, representing a 73% engagement rate.  "Of the patients who responded to our call, 38% -- close to 390 patients -- required a follow-up call from a member of our nursing team," said Moses. "Several calls focused on clarifying discharge instructions, while others centered on medication reconciliation and scheduling follow-up appointments with primary care providers. These are among the key issues that can lead to hospital readmissions, underscoring the need for this level of engagement with our patients. The Care Call empowers our patients by encouraging them to play a more active role in the self-management of their conditions."
"By using Voice, VNSW has surpassed the national average of 70% patient engagement and has achieved an incredible 73% engagement rate", stated John Banks Powell, Director of Post-Acute Solutions at CipherHealth. "This increase is more than numbers. It means that more VNSW patients have better outcomes, because they have had their questions and concerns quickly answered." Home health providers are now being measured on quality scores like hospital readmission rates and patient satisfaction. According to Powell, "innovative home health agencies like VNSW realize the importance of identifying ways to stay better engaged with patients between face-to-face home visits, leading to better quality measures in these areas."
CipherHealth's technology platform also provides a customized online management and reporting portal that enables VNSW to track, manage and generate metrics to determine patient satisfaction, specific health care outcomes and the rate of preventable hospital readmissions achieved as a result of the outreach calls.  Moses noted that data retrieved from the portal will provide the agency with insights into patient health behaviors and trends that will drive improvements in patient outreach and treatment approaches.
Following the pilot program, VNS Westchester hopes to incorporate the VNSW Care Call into its patient quality improvement programs on an ongoing basis.
About VNS Westchester
Founded in 1901, VNS Westchester is the largest and only independent not-for-profit, Medicare-certified home health care agency in Westchester, also serving the Bronx, Dutchess, Putnam and Rockland counties.  The agency's core services include Skilled Nursing with Case Management; Rehabilitation Therapies (Physical, Speech and Occupational); Medical Social Work and Home Health Aide services to promote and support the health and sustain the independence of residents of Westchester and adjoining communities. Core services are supplemented by a wide array of  Specialty Programs including, Advanced Wound and Ostomy Care; Pain Management & Palliative Care; Dysphagia Rehabilitation; Orthopedic and Joint Replacement Rehabilitation; Mental Health Home Care; Telehealth remote patient monitoring; and Tobacco Cessation programs. VNSW also offers community health education programs focusing on healthy living and disease prevention. The agency has consistently received accreditation by the Community Health Accreditation Program (CHAP), a prestigious national accrediting authority.
About CipherHealth
Since 2009, CipherHealth has been innovating and delivering products to help care providers effectively and efficiently provide quality of care for their patients.  By harnessing technology to improve patient outcomes and experiences, CipherHealth and its suite of products focus on the evolution of patient care.  CipherHealth is based in New York City and was named "Best Place to Work in Healthcare" by Modern Healthcare (2016).