News & Events
News & Events
Lead Image:

VNS WESTCHESTER STEPS INTO SPRING AT BENEFIT GALA ON MAY 12
Record-Breaking Turnout Boosts Support for Critical Home Healthcare and Community Health Education Programs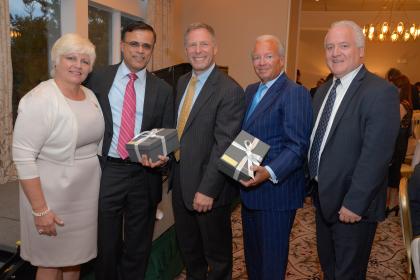 Unprecedented changes in today's healthcare landscape means that home healthcare organizations like VNS Westchester are more vital than ever in ensuring the health of community residents. That, and an abundance of appreciation led a record-breaking crowd of over 200 friends, donors and healthcare partners to generously contribute close to  $125,000 to VNS Westchester at its 17th annual benefit gala held May 12 at the Willow Ridge Country Club in Harrison. Embracing the perfect spring weather, guests enjoyed cocktails, conversation, great food, a fabulous Silent Auction and views of the Club's verdant golf course. The annual event is critical in helping the nonprofit agency to fulfill its mission, as many of the services it provides are not reimbursable by government or other sources.
Honoree Frank A. Corvino spoke about the profound changes in healthcare in recent years, noting that home healthcare requires greater collaboration among healthcare organizations. "As healthcare is changing, VNS Westchester will play an even greater critical role in patient care," said Corvino, after thanking VNSW for the honor.
Hosted by Michael Gargiulo, NBC4 New York Anchor (his fourth turn at emceeing the VNSW event), the gala's awards ceremony honored Corvino, chairman of the Greenwich Hospital Foundation and recipient of VNSW's 2015 Distinguished Service Award; and Dr. Sumir Sahgal, chief medical officer of EssenMed House Calls, and recipient of VNSW's Community Leadership Award. The awards were presented by Tim Leddy, interim president and chief executive officer, VNSW, and Mary Gadomski, VNSW's director of community education.
In his remarks, Leddy acknowledged the many individuals, local businesses, corporate sponsors, partner organizations, and other contributors from throughout the community who made the evening possible. "Your support translates into our ability to provide enhanced services for the over 10,000 patients we serve annually. They are the ultimate beneficiaries of your generosity, and we thank you on their behalf," he said.
Honoree Dr. Sumir Sahgal said the many healthcare professionals present who dedicated their lives to the community humbled him. "Similar to VNS Westchester, we at EssenMed House Calls are passionate about caring for the elderly," noted Sahgal. He graciously thanked VNSW and his team at EssenMed, for "putting patients first."
In her opening remarks, Dr. Amy Ansehl, chair of the Westchester Visiting Nurse Services Group Board, said "We feel privileged to serve as collaborators in care with everyone here tonight with whom we share common goals, above all, improved health, independence, and dignity for those we serve." Citing the celebration of National Nurses Week that took place during the period leading up to the Gala, Ansehl also acknowledged VNSW's nurses, along with its entire home care team, for making a difference every day in the health and well-being of patients. "You rock!" she exclaimed, eliciting cheers from the audience.
Proceeds from the Spring Benefit Gala directly support VNS Westchester's efforts to provide expanded programs, complementary care services, and charitable care for its home healthcare patients in Westchester, the Bronx, Dutchess, Putnam and Rockland counties. Funds also support the wide range of free community health education programs and services that the agency provides to seniors and other populations in the five-county region it serves.
Pictured in photo above:  VNSW Director of Community Education, Mary Gadomski; Honoree Dr. Sumir Sahgal; Host Michael Gargiulo; Honoree Frank A. Corvino; and Tim Leddy, Interim President & CEO, VNSW.