News & Events
News & Events
Lead Image:

Westchester Care at Home Partners with Vital Care Services to Train Home Care Workforce in Digital Health Technologies
NYSDOH-funded program aimed at workforce development, chronic disease management for homebound individuals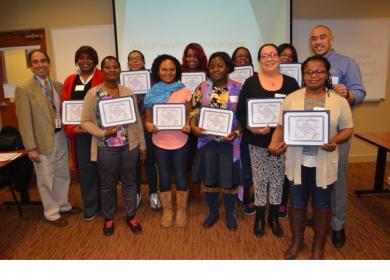 Evidence-based studies cite positive health outcomes resulting from the use of digital health technologies with individuals managing chronic health conditions at home.  To help achieve this goal, Westchester Care at Home (WCAH), a NY State Licensed Home Care Services Agency, has partnered with health technology services firm, Vital Care Services, to train its Home Health Aides (HHAs), Registered Nurses (RNs), and Administrators on a variety of digital health devices that will help them better track and improve the health status of the agency's largely elderly client population.      
The innovative program, the first of its kind offered to Home Health Aides in the region, is funded by an $80,000 NY State Department of Health Workforce Training Grant. The program commenced in January with 31 HHAs, RNs and administrators successfully completing the course thus far.  A total of 58 Home Health Aides and 10 staff are scheduled to complete the training by year's end.  
The Digital Health Technologies Training Program for Chronic Disease Management is a robust, interactive program that features lecture-based learning combined with hands-on opportunities to practice using Telehealth remote monitoring devices; wearable sensors, such as those measuring blood pressure, heart rates and blood oxygen levels; and environmental sensors placed in strategic areas in the home to track mobility or medication compliance.  The full-day training begins with an overview of Digital Health and progresses in focus to the latest technology and practical use cases in home health care.  Learners are also provided with contextual knowledge about the impact of digital technologies on chronic diseases, and the critical role education plays in helping clients and their families better manage health-related behaviors. The HHAs then take this experience from classroom to home for an on-site assessment provided by Vital Care Services, and the patient is also educated on digital health and its potential benefits.
Expansion of Support Capabilities to Clients at Home
This new training has been very well received by the HHA staff thus far; HHA George said, "I think this training was very useful to help increase my skills, allowing me to provide even better care to my patients.  The patients always come first.  Technology is often overwhelming to them, but I now feel more capable of assisting them with digital health devices."  HHA Celeste added, "This was very educational and I would recommend it to any healthcare worker.  The information was interesting and very applicable to my job as a home health aide.  Also, the instructors were knowledgeable and answered challenging questions with ease."
"As frontline home care workers, Home Health Aides often serve as the eyes and ears for the individual's family, physician and other health care providers," observed WCAH Administrator, Harvey Levine. "This program provides our HHAs with the opportunity to expand their support capabilities to our clients, while empowering them with new skills to both use and explain emerging digital health technologies to their clients. With access to health care becoming more difficult due to shrinking coverage and decreased insurance costs, these home-based technologies can enable more efficient, daily transmission of a variety of pertinent health data from a client's home to a clinician who is centrally located in our offices, leading to improved care oversight and early interventions." Levine also noted the program's potential for increasing satisfaction outcomes among clients, as well as other health care providers, insurers and private payers with whom the agency contracts.
Tim Leddy, President and CEO of the Westchester Visiting Nurse Services Group, Inc., which oversees the operations of Westchester Care at Home and its affiliate, Visiting Nurse Services in Westchester, noted: "Through the Digital Health Technologies training program, we aim to fulfill multiple goals.  A fundamental objective is to equip our Home Health Aides with new technology skills for the future of home care – part of our commitment to workforce development. In doing so, our HHAs will become an even more integral part of a coordinated home care team providing high quality home care, personal care and chronic disease management services. By using these newly acquired skills as an adjunct to the personalized care they provide, our HHAs can help improve client health, leading to fewer ED and hospital visits. This in turn leads to reduced health care costs, a shared goal among all health care providers."
Christopher Gaur, Co-Founder/Partner at Vital Care Services, states, "The healthcare industry continues to rapidly innovate by utilizing digital health technologies to meet its growing demands to provide affordable and effective care.  In response, we created innovative training services for the healthcare workforce so they can fully benefit from using the latest technology including virtual visits, remote patient monitoring, wearable devices, and much more.  We're honored to partner with Westchester Care At Home on this new initiative and look forward to making a significant impact in workforce development in this digital age."
About Westchester Care at Home
Established in 1988, Westchester Care at Home (WCAH) is a New York State Department of Health Licensed Home Care Services Agency, an affiliate of Visiting Nurse Services of Westchester, Inc.  WCAH offers private duty Home Health Aide and Personal Care services to individuals requiring assistance with activities of daily living, including personal grooming, meal preparation, shopping and errands, housekeeping and laundry and assistance with pre-poured medications.  Highly trained and deeply committed, WCAH Home Health Aides provide companionship as well as personal care and household services to improve the quality of life for its clients – while offering respite for their families and caregivers.  The agency has consistently received accreditation by the Community Health Accreditation Program (CHAP), a prestigious national accrediting authority.  It provides free NY State-approved Home Health Aide Certification Training as part of its healthcare workforce development initiatives. For more information, call: 1-800-805-WCAH, or visit: https://www.vns.org/home-health-aides
About Vital Care Services
Vital Care Services (VCS) is a privately held full service health technology corporation that provides innovative and engaging home & community-based digital health solutions.  Services provided by VCS include: Connected Care Technology, Patient & Provider Training, Logistics Management, Data Monitoring & Analysis, Care Coordination, Analytics & Reporting, and Support Call Center. 
Its programs help patients get healthy, stay healthy, and age successfully with their health conditions and its solutions have increase healthcare access, improve quality of life, and reduce overall costs by utilizing its interoperable telehealth system. Today, VCS partners with home care agencies, hospital systems, medical groups, social services organizations, and local government to provide customized programs that utilize technology as a tool to achieve substantial outcomes.  For more information, call: 914-355-5550, or visit: https://www.myvics.com