News & Events
News & Events
Lead Image:

Westchester County Officials Visit VNSW Home Care Patient
Special Needs of Seniors During Excessive Heat a Key Topic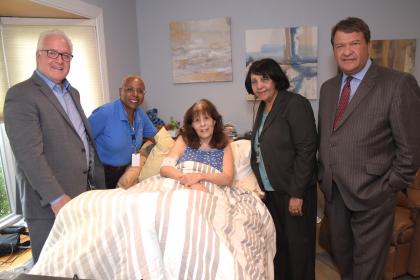 VNSW was delighted to have Westchester County Executive, George Latimer, and Westchester County Commissioner of Senior Programs & Services, Mae Carpenter, visit our patient, Karen Tutnauer, during her home care visit from our RN, Diana Valdes and VNSW President/CEO, Tim Leddy.  During their visit, the two officials discussed the importance of keeping cool and hydrated during the excessive summer heat – especially critical for seniors with chronic health conditions.
Latimer advised that individuals should "Pace yourself – don't overdo it in the heat. Take breaks in an air-conditioned place and drink lots of water." Latimer and Carpenter both emphasized the importance of checking in on elderly or ailing neighbors during a heat wave.
According to Tim Leddy, "Heat-related illnesses, such as heat exhaustion or heat stroke, are of special concern among our elderly patients. Older adults are more likely to have chronic health conditions that alter the body's ability to properly regulate body temperature in the wake of excessive heat. Prescription medications can also affect temperature control. At this time of year, VNSW's home care team plays a key role in ensuring that our elderly patients are not exhibiting signs of dehydration or other symptoms of heat stress, and that they have sufficient cooling systems in the home."
Patient Karen Tutnauer was grateful for the visit in highlighting the special needs of seniors managing chronic health conditions at home. Despite serious health issues, Karen credits her nurse, Diana Valdes, with providing both the skilled care and positive encouragement that is making a difference in her physical health and mental outlook. A Professor of Chemistry at a local college, Karen is hoping to resume teaching when her health improves.
For tips to prevent health-related illness and places to stay cool, Westchester residents can visit the County Health Department web site at www.westchestergov.com/health.
Photo above: (left to right):  Tim Leddy, Diana Valdes, Karen Tutnauer, Mae Carpenter, George Latimer