News & Events
News & Events
Lead Image:

WVNS Group Partners on Workforce Development Initiatives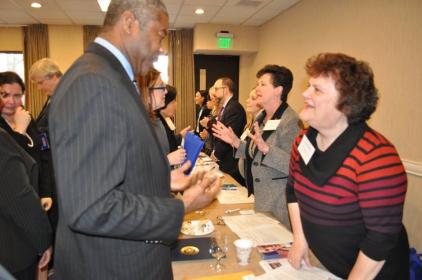 With over 600 employees and independent contractors, the Westchester Visiting Nurse Services Group, Inc. (WVNS Group) is a major healthcare employer in Westchester and adjoining counties. Recognizing the growing need for job development opportunities in healthcare, as well as in other industries in the region, WVNS Group is collaborating with a variety of organizations to help meet workforce needs for local job seekers and employers alike. WVNS Group is the parent organization of VNS Westchester and Westchester Care at Home.
"It's all about establishing a pipeline for job growth in our community," said WVNS Group President & CEO, Tim Leddy. "To ensure a robust workforce for today and for the jobs of the future, it's critical that organizations work collaboratively on job development and training opportunities for those entering, returning to or seeking to advance in the job market."
Promoting "Jobs Waiting"
Represented by Human Resources Director, Deb Gogliettino (top right in photo above), WVNS Group actively supports the Westchester-Putnam Workforce Development Group by participating in informational panels, providing job opportunities to transitioning workers, and engaging with workforce leaders to foster job growth.  Last spring Gogliettino served as an advisor for the Workforce Development Group's "Jobs Waiting Boot Camp," an intensive six-week program providing skills assessment, career readiness workshops, employee assistance programs and related skills to job seekers.  "It was very gratifying to speak with potential job candidates at the "Boot Camp" job training graduation," she reported. "I had the opportunity to meet many talented individuals who came away from the program with new skills and renewed confidence in securing meaningful employment."
Skills-Building for BOCES Students
The agency also joined forces with the Southern Westchester BOCES (Board of Cooperative Educational Services) to provide some of their high-school level students with an authentic "new job" experience to build skills and inspire confidence for future job-seeking. Students came to the agency's offices twice a week to engage in interviewing, filling out applications and basic office tasks, such as filing and copying, as well as other office duties and workplace protocols.  WVNS Group's Junior Human Resources Generalist, Nina Varughese, coordinated a full orientation for the students and facilitated introductions to staff and functional operations across all departments to help integrate them into the work environment. Varughese was honored at the Southern Westchester BOCES 25th Annual American Dreamer Achievement Awards Luncheon in May, for her dedication to helping BOCES students achieve their goals.
Supporting Employment for the Developmentally Disabled
WVNS Group has engaged the services of eDocNY, a document management firm that helps organizations like WVNS transition into "green" workplaces through their sorting, digitizing, indexing, and other business record services.   An affiliate of the not-for-profit organization, Arc of Westchester, eDocNY also has a core social mission dedicated to creating new and more meaningful job opportunities for the under-employed of our community.  Approximately 50 percent of their employees have developmental disabilities, and the company provides them with training in document management skills within a high-tech work environment.  It also provides employees without disabilities the opportunity to work with, train and get to know employees with disabilities.  According to Leddy, "WVNS Group is proud to support job development opportunities for developmentally disabled members of our community through our collaboration with eDocNY.  It's another means of deepening our commitment to fostering job training and growth opportunities for all of our neighbors. "